When it comes to selecting an island getaway location, most people will gravitate towards Pulau Ubin's meandering bicycle trails or Sentosa's numerous attractions. However, just a short ferry trip away is St. John's and Lazarus Islands, two of Singapore's Southern Islands.
We had already covered some of the fun things to do on Lazarus Island in a previous article, so our topic of discussion for today would be none other than St. John's Island. The largest of the Southern Islands, St. John's Island is a fun-filled destination adorned with picturesque nature trails and beaches.
If you are thinking of riding the wave to St. John's Island, here are 4 things you can consider doing on your day trip there!
1. Explore the intertidal zones
What is an intertidal zone? Well, the intertidal zone is the area where the sea meets the land between low and high tides. Essentially, this means that during low tides, you would be able to walk on the lagoon.
When the tides subside, the accessible shore becomes a treasure trove of marine life – seagrasses, sea cucumbers, horseshoe crabs, starfish – you name it! Check the tide forecast before your trip in order to pick the best time to go. Just be sure to watch your footing and not disturb the marine life when you are exploring the intertidal zones.
2. Join a guided walking tour
Interested to learn more about the island's diversity of flora and fauna? Consider joining a curated guided tour!
Led by NParks volunteers, this free 1.5 hour guided walking tour covers a total distance of approximately 1.6km. Held on the first Sunday of every month, you will be introduced to the island's colourful history and its diversity of flora and fauna. However, do note that the tour is capped at 10 participants per tour, and tickets tend to sell out quickly!
3. Visit the Marine Park Outreach and Education Centre
Located just a 15-minute walk away from the jetty is the National Marine Laboratory's Public Gallery. The Gallery has a 3D miniature model of the Marine Park's dive paths, a chronology of Singapore's conservation efforts, a viewing pool, and aquariums to showcase the biodiversity of Singapore's waters. From coral reefs to intertidal habitats, you will surely broaden your knowledge of the conservation of our marine ecosystems after a visit to the Marine Park Outreach and Education Centre.
4. Snap some photos along the paved connecting bridge
With places such as Marina Barrage and Upper Peirce Reservoir gaining traction as popular photo spots, St. John's Island can be a fresh addition to your list.
In particular, the bridge connecting St. John's Island to Lazarus Island makes for the perfect photo opportunity. Clear turquoise waters and luscious greenery – what more could you want, really?
Bonus: There are a few cats roaming around St. John's Island, so if you're lucky, our furry friends could even make a special appearance in your Instagram-ready shots.
Getting to St. John's Island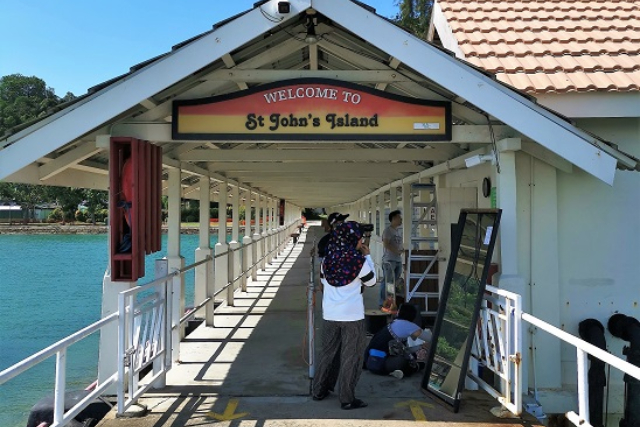 And there we have it, 4 things to do on your next day trip to St. John's Island. With these ideas in mind, it is now time to head on down to St. John's Island for a fun-filled day to remember!
Getting to the island is much simpler than many might imagine. All you have to do is catch a ferry to St. John's Island in Singapore. Board your ferry with Singapore Island Cruise from Marina South Pier, and within 30 to 40 minutes, you're there at your destination!
To book tickets or to check out the ferry schedules and fares, please visit https://islandcruise.com.sg/ for more information.